Learning about trees is gratifying in its own right but it can also dramatically cut down on tree management costs. Proper planning and care of your trees while they are young can put 'green' in your pocket in two primary ways:
Healthy, structurally sound trees are more able to provide the environmental benefits that we love them for. Shade, water capture and improved air quality are only a few of the tree benefits that result in significant cost savings for homeowners and municipalities alike.

While well worth the money, caring for large trees requires the skills of highly trained workers with specialized equipment and is not cheap. Proactive care during a tree's younger years can dramatically reduce your large tree care costs.
This large tree failure could have been prevented at little or no cost.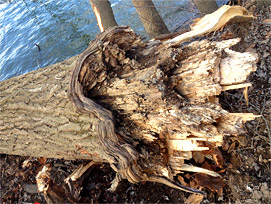 The key is to take action while trees are developing. This tree may be bound for limb failure like above, but it's not too late!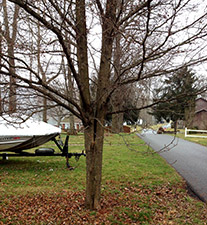 Trees 101 takes pride in training others to tend to their own trees, but we are happy to do the work for you. If your trees are less than 22 feet tall, we can typically manage them with a low impact approach, using a 10-foot orchard ladder and standard pruning equipment. This saves on financial and environmental costs, and may be the quietest tree work you have ever witnessed.
Tree care Services at TREES 101
Emerald Ash Borer (EAB) Control: Ash trees in our woods are being destroyed by EAB, but there are things that YOU can do to protect your trees at home. We use the latest and most proven methods but it is critical to act early to stay ahead of this pest. Contact Trees 101 right away to save trees and money! Click here to watch a our EAB video.
Cultural Care: One of the best things we can do for a tree's vigor is remove any competing turf or other plants from its root zone and replace that with a thin layer of mulch. We will provide this service as well as other 'cultural improvements' to boost root health. Occasionally, low-impact fertilizers or pest controls may be needed but this can generally be avoided when working with younger trees.
Planting: We can help with species selection and will install trees in your landscape using best practices. We promote native trees and shrubs but understand the role non-native species play in certain circumstances.
Pruning: Whether it be for aesthetics, safety or health, pruning requires attention to technique. Trees 101 will use the right tools for the job and maintain vigorous sanitation standards to avoid detrimental shock that can often occur to trees that are not properly pruned. Take advantage of pruning before your trees reach maturity so you can play a key role in their health and structural strength.
Based in Shepherdstown, WV                         Serving WV, MD, VA and DC