Trees give us shade, clean our air and water, provide habitat for wildlife, and beautify our landscapes. Trees 101 recognizes that all of us can contribute greatly to the health and structural integrity of these living treasures if we are empowered to recognize common problems and take proactive steps. Our goal is to provide that empowerment through consulting services as well as education and training programs.
While we offer a range of tree advice and consulting services that include large trees, Trees 101 also specializes in providing care for trees that are in the earlier stages of their lives – a critical time for ensuring health and structural integrity for the future. There are exceptions, but we primarily work on trees that can be tended to with an orchard ladder and standard pruning equipment. Additionally, we welcome the opportunity to train our clients in this low-impact tree care or provide tutorials while we are performing these skills.
We work with private individuals, companies, municipalities and other groups (environmental organizations, HOAs, students) in the eastern panhandle of West Virginia, nearby Maryland, northern Virginia and the Washington DC metro area.
Announcing Emerald Ash Borer (EAB) Control! Contact Trees 101 right away to see what we can do to help protect your ash trees against this aggressive pest. Learn more about EAB at www.emeraldashborer.info.
About Shawn Walker: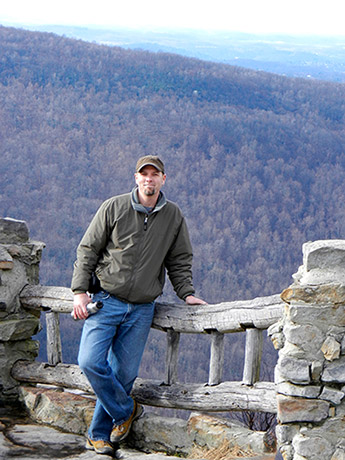 Shawn has more than 10 years of experience working with trees. After two years of general horticultural education and training he received a master's degree in forestry in 2006. He followed this up with conventional forest management before moving on to serve as an urban forester in New York City and an arborist in Washington DC. Most recently he developed and led adult education classes and workshops as an urban forestry instructor at Casey Trees in DC.
Shawn was born in Japan and spent much of his childhood and several post-university years in the land he calls his second home. During his horticultural training, Shawn apprenticed at Anderson Gardens in Rockford, Illinois, one of the premiere Japanese gardens in the Midwest. He believes this background imbued within him the importance of a balanced approach to the natural world around us. Over time his approach to tree care has boiled down to a simple philosophy: Trees and people can and must share critical roles in our ecosystem.
Certifications:
Registered Consulting Arborist #547, American Society of Consulting Arborists
Certified Arborist #NY-5360, International Society of Arboriculture
Licensed Tree Expert #1926, Maryland Department of Natural Resources
Tree Risk Assessment Qualified, International Society of Arboriculture                                                               Master of Forestry, Yale School of Forestry & Environmental Studies
Carbon Neutral
Although we strive to be low-impact, tree care does require some carbon intensive activities, particularly in transportation costs to and from client sites. At Trees 101 we track all of our fuel use and offset our carbon footprint by donating trees and service hours to local greening organizations such as the Cacapon Institute, Casey Trees, and West Virginia's Division of Forestry.
Based in Shepherdstown, WV                               Serving WV, MD, VA and DC